For Sale
---
Chronograph
Competition Electronics - Pro Chrono Digital Chronograph
New in box, never used. I bought it this past winter and got a Labradar for my birthday so I won't be using it.
Perfect condition. Box and instructions. $70
Contact Randy Scott at
rcs9250_AT_aol_DOT_com
or text at
440-725-0983
---
Winchester .40 / 10mm 180 gr FMJ -TC bullets.
Case of 2340 for $230
Discounts available for multi-case purchase.
Less than .10 each for a quality jacketed bullet!
Contact Sean Zalesny at
sazrra_AT_yahoo_DOT_com
---
Loaded ammo (sale to OH CCW only):
2 cases (20 boxes of 50/case ) CCI Blazer .45, 230 grain round nose - $275/case
37 boxes of 50 rounds, Remington .45ACP, 230 grain - $14/box

CED Millennium chronograph with case, 2 sets of (new-in-box) spare sky screens, infrared sky screen set and tripod stand -- $150/best
- this is the original model Millennium, not the Millennium 2

Bullets
- X-treme Bullets 9mm, 124 gr RN HPCB, have 8 boxes of 500 - $35/box

Holsters:
Blackhawk CQC Serpa Level 2, right hand, for 1911 with both belt and paddle attachment $40
Blackhawk CQC kydex for 1911, right hand, width-adjustable belt attachment and drop/offset $40

Safariland double-layer competition/duty gun belt, fits 32-38" - $15

Kimber Pro Carry 1 in .45ACP with night sights, w/5 Chip McCormick Shooting Star 8-round mags - $825
Kimber .22 conversion top end, 3 magazines - $200

C-More ARW4 red dot sight - $250
Contact Fran Terry at FranShoots@gmail.com
---
Belt & Mag Pouches
1 - CR Speed High Torque Belt (Black) comes with one belt keeper / Size: 36-40"
Paid: $59.00 Will sell for $40.00 Save: $19.00

5- CR Speed Versa Mag Holders (Black)
Paid: $149.00 Will sell for $125.00 Save: $29.00

Buy both the belt & mag holders and pay $150.00 Save: $58.00

This gear was only used in 2 matches, so they are like knew. Selling due to injury preventing me from competing further.

Contact Joe Keane @ 440-536-0120
If interested, I can meet you at the range to do the transaction.
---
Standard size M&P with 3 regular cap mags plus 3 additional. Holster and double mag pouch. Lula loader. Hard case and papers
$625
Richard Ellis
330-842-1178
---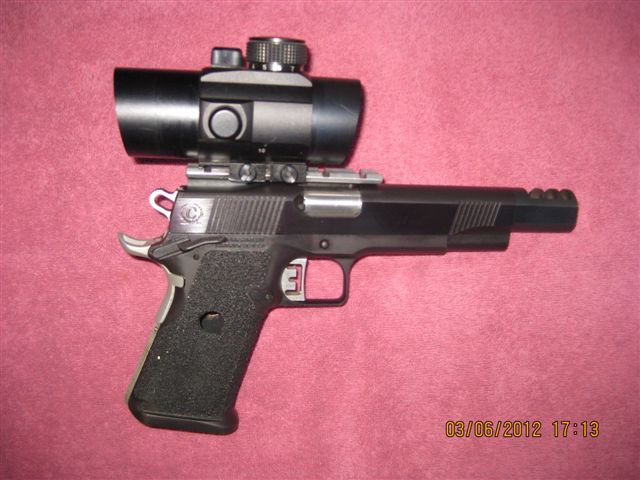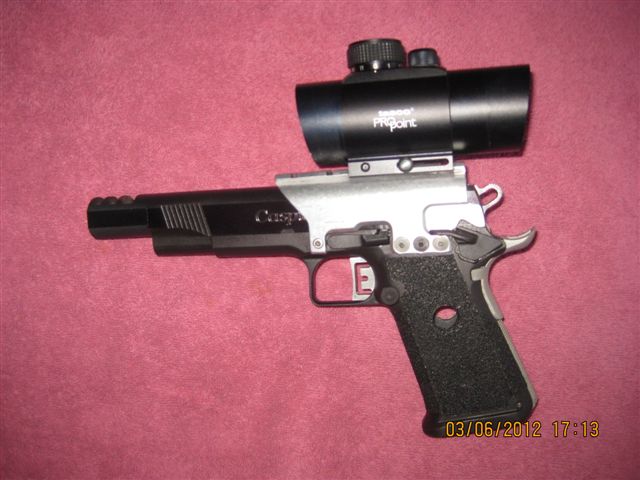 Caspian Arms 38 Super Built by Evolution Gun Works (Has been a safe queen with less than one thousand rounds)

Includes
6 Mags
Ernie Hill Holster
Dillon dies with shell plate (for RL/Super 1050)
6 thousand 145gr LRN
1 thousand 158gr LRN
1 thousand 130gr FMJ
300 (about) New Brass

Asking $1500. Contact Mick Lipscomb @ 440-478-2474 or themicks_A_T_roadrunner_D_O_T_com
---
CZ SP01 Phantom (Polymer Frame De-cocker model) w/4 mags
(2 come w/gun originally)...3 factory and 1 MecGar.
Blade Tech Holster and Mag Pouch. Less than 300 rds. fired.

Asking $600

Richard Ellis
330-842-1178

---
---

To add an item send an e-mail to
stats underbar Bud a-t practicalpistol d-o-t net

---